Baie de Beauport, Quebec's Beach and Zodiac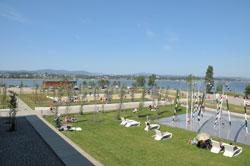 A day you will remember! California is here!
Let's plan together a day where everything is possible: excursion along a zodiac boat, picnic on the beach, volleyball, bowls, badminton, soccer, frisbee, and beach umbrellas. A day to repeat at the Beauport Bay this summer.
More than a kilometer of sandy beach and five minutes from the city, this site offers the possibility to enjoy canoe, kayak, sailing, kite surfing, windsurfing, soccer, and beach volley. Water fountains and healthy snacks are available on the site. Possibility to rent a room for groups between 40 and 400 people (wedding hall, press conference). At the South end of the Henri-Bourassa Boulevard, exit 23, Dufferin-Montmorency highway.
---
Tarifs :
Semi-private price : 55,00 $
Semi-private price for children : 27,50 $
Private price : 65,00 $
Private price for children : 37,50 $
$10 per car for the beach site
Departure :
Between 10:00 AM and 2 hours before sunset
Duration :
The day at the beach + 1.5 hours cruise
---
---
No hidden fees
Please call for reservations in a time of less than 48 hours !